How do I find Comet 46P/Wirtanen in the sky?
We have generated1 a series of finder charts that show where comet Wirtanen is located with respect to the stars from November 2018 through February 2019.
Each chart has indicator circles, labeled with the date marking the comet's position at O hr Universal Time. Throughout the day, the comet will progress toward the next indicator point. You'll need to adjust for your time zone and the time of day for the exact position, though the comet is bright enough that it should be visible once you get close to the general position. Lines of Right Ascension and Declination (J2000) are shown, with labels along the periphery, to help in locating the comet. Constellations are given in the table below.
We've provided two sequences: one with a larger field of view that shows more stars for zeroing in on the postion, and a zoomed-in version that can be used to refine your search, if needed. There are also two versions of each chart: one with white stars on a black background and one with black stars on a white background.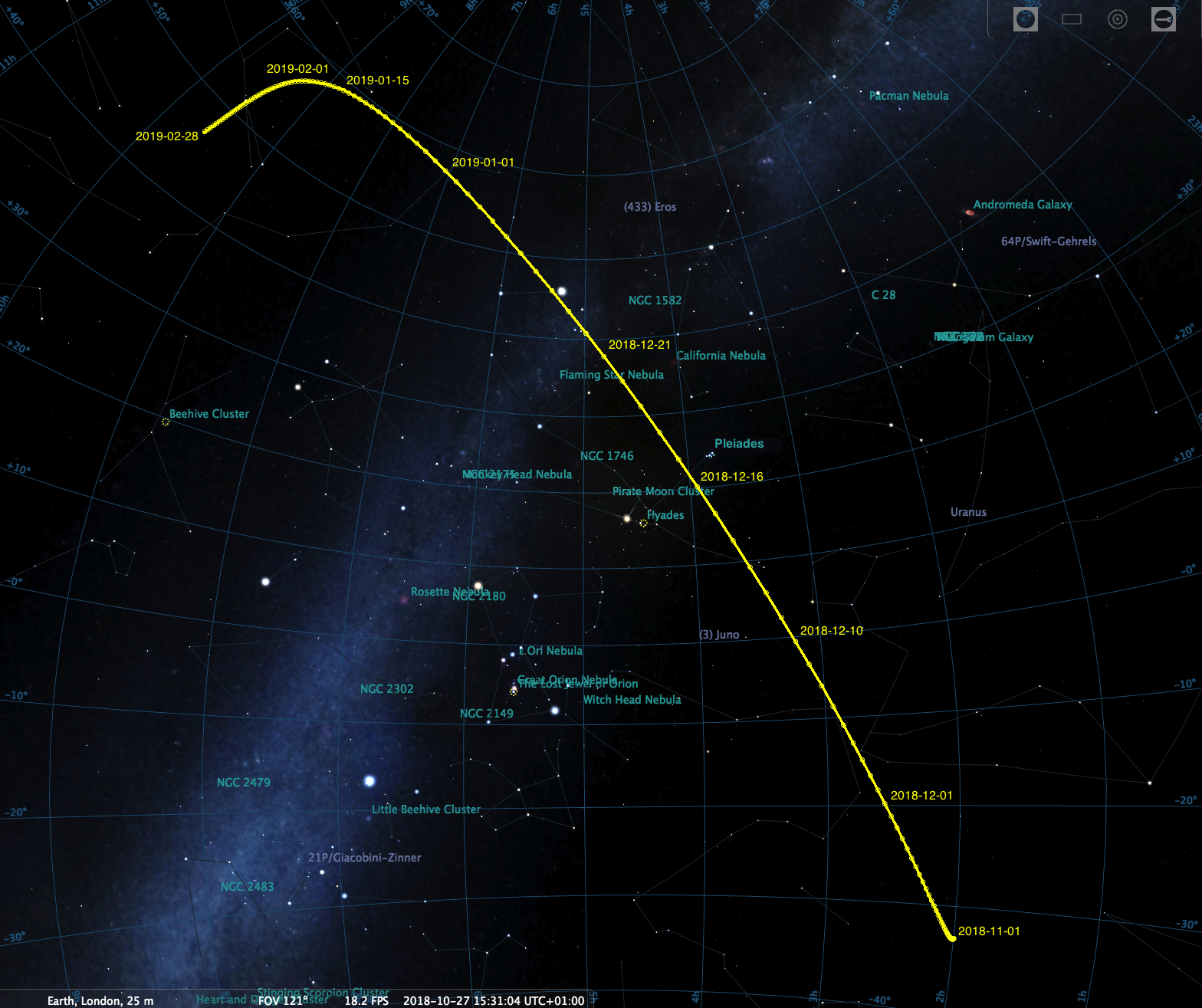 Summary view of Wirtanen's motion from November 2018 through February 2019.
How to use these charts
Use these charts to identify the stars in the sky around the comet, and star hop from patterns of bright stars to the comet.
Select the star chart for the date of interest (start with the wide field view if you're not familiar with the sky). The table also lists the constellation where the comet is located to get you started. The full-sky plot above can also be used to orient yourself, with Orion and the Pleiades as good starting references). Locate the brightest stars in the finder chart and match the patterns to those in the sky. Then you can use the plotted path to figure out where the comet should be relative to the star patterns. (Note that the comet positions are given for midnight UT, so depending on when you are looking it will lie somewhere in between two marks in the chart.)
Note that at its closest approach (December 16), Wirtanen will be only a few degrees away from the Pleiades star cluster, which will act as a great pointer!
Star Charts - Wide-field
| | | |
| --- | --- | --- |
| Black Background | White Background | Constellation(s) |
| Nov 01 - Dec 11 | Nov 01 - Dec 11 | Fornax, Cetus, Eridanus |
| Dec 09 - Dec 18 | Dec 09 - Dec 18 | Eridanus, Cetus, Taurus |
| Dec 16 - Dec 25 | Dec 16 - Dec 25 | Taurus, Perseus, Auriga |
| Dec 20 - Jan 07 | Dec 20 - Jan 07 | Perseus, Auriga, Lynx |
| Dec 26 - Jan 09 | Dec 26 - Jan 09 | Auriga, Lynx |
| Jan 02 - Jan 30 | Jan 02 - Jan 30 | Lynx, Ursa Major |
| Jan 24 - Feb 26 | Jan 24 - Feb 26 | Ursa Major |
Star Charts - Narrow-field
---
1. We used the open-source program Stellarium to generate these plots. It can be found here.↩